タカギクラヴィアのピアノは,コンサートやレコーディングだけでなく,TV,映画などですでに4000回を越えるステージの実績を残しています。


Contact us for piano tuning, repair, moving and rental.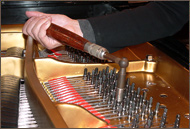 Piano Tuning:
Not only do we tune pianos, but we check the total balance of each part of the piano regularly.
Piano Repairing:
If you have any problems with your piano, we can repair it. If your piano is very old, we can rebuild it.
Piano Moving:
If you want to move a piano in the house or move to another location, ask our specialist about fees. Estimates are free by phone or email.
Installation of silent system:
We can install a silent system for almost any piano. For some makers and types it may need extensive modifications. Our services include installation as well as maintenance. Ask our technicians for an estimate of cost.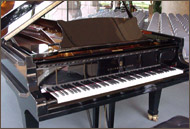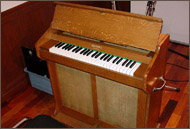 Piano Rental
Contact us about piano rental for short and long term:
Short term: For concerts, stage events, musicals, weddings, TV programs, movies, promotion videos, etc.
Long term: For homes and business places on an annual base
[Piano list]
Steinway Model-D: Length 274cm
Steinway Model-B: Length 211cm
Bosendorfer (Wien) Model-200: Length about 200cm
Steinway Model-0: length 180cm
Steinway Model-1098 (up right): height 110cm
Celesta
Mustel (Made in France): 4 oct.
If you have any questions, please call us at 03-3770-9611 or contact as by e-mail at
2001-2008 Copyright Takagi Klavier Inc. All Rights Reserved.
Any part of this website may not duplicated in any form without the written consent from Takagi Klavier Inc.