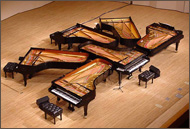 Every piano equipped in concert halls is intended for public use. So it is regulated by a standard technique to meet the needs of the average piano player. If artists expect to put their own twist on their performance, a public piano has limits, and a piano must be regulated with special techniques to the artist's order.
For these artists, we can provide the best possible choices of instruments, regulated specifically to the artist's preferences.
Steinway (New York) Model-D
Length 274cm, brilliant crystal tone


Steinway (Hamburg) Model-D
Length 274cm, common piano equipped in most of concert halls in Japan
Steinway (New York) Model B
Length 211cm, semi concert grand piano


Steinway ( Hamburg) Model-B
Length 211cm, semi concert grand piano


Bechstein (Berlin) Model-EN
Length 280cm, suits for solo recital in middle size concert hall and accompaniment
Bosendorfer (Wien) Model-200
Length about 200cm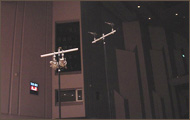 The concept of NYS CLASSICS
We established our independent label (NYS CLASSICS) for classical piano music in 1995. The concept of this label is "Seeking sounds of great musicians." We endeavor to record performances based on traditional interpretations of the great masters. We do this by:
Recording with artists directly descended from composers
Using pianos of the Golden Age from the late 19th century to the early 20th century
Recording with skilled artists who will bequeath those classical music to future generations
These 3 points are our central concepts and we create high quality CDs that pass down the essence of classical music through the generations.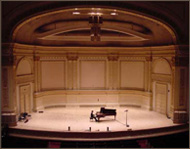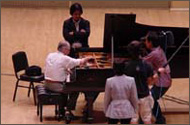 Recording at Carnegie Hall
New York Steinway D-54958 was manufactured in 1887. This piano used to be played at concerts in the Carnegie Hall and the Metropolitan Hall. Its beautiful rosewood body shows us that black coating was not the primary color for pianos at that time. When Horowitz came to Japan in 1986, this piano was owned by Capital Tokyu Hotel in Japan where he stayed. He happened to play this piano at the hotel and praised it highly. Fortunately I have owned this piano since 2001, and have dreamed that one day it will be back at Carnegie Hall and played on its stage.
To testify the secret of the sounds of the masters era (The Golden Age of Classics), I thought this piano should be fully rebuilt, including the replacement of the soundboard to reproduce the sounds when it was manufactured, and brought to Carnegie Hall to record classical pieces that are representative of that time.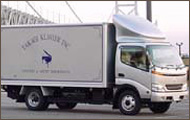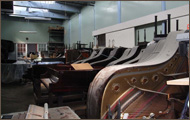 Storage and Transport: Our concert pianos are kept in our studio under strictly controlled humidity and temperature 24 hours a day, every day. For transport we have specially developed air-conditioned trucks. These cutting-edge systems help maintain the pianos in perfect condition for performances.
Overhaul & Repair: We utilize only original parts imported from New York and Europe for restrings, action overhaul and outer painting and finish at our factory to provide the best quality and most authentic pianos.
Partner Factory: We also have joint rebuilding initiatives with our partner in New York, including replacement of sounding board and full rebuilding.